Don't you just love it when you cross paths with someone who has an idea they passionately believe in, and do everything they can to make it happen? If you do, you're going to enjoy this. I'll get to the actual review in a moment, but I think it's really important to show you the full picture, starting with…
The Background Story
It was 4th January 2021, when one of my recent LinkedIn connections at the time asked if I could give him some feedback on a book he had just finished writing, soon to be published. The idea of a vocabulary resource specific for IELTS task 2 sounded really interesting, so I agreed. After a quick look at the manuscript, however, I realised that it needed some work in the editing and proofreading department. As it is often the case with EFL/ESL teachers, the author didn't have the funds for a professional editor, so he asked for my help. Unfortunately, I didn't have the time nor the expertise (I'm not an editor!) to undertake that kind of work, so I suggested reaching out to some of his fellow teachers for their input, and we left it like that. This, however, left me unsettled.
His book idea was solid and the content was good - I couldn't stop thinking about it and felt there had to be something more I could do. A couple of days later, perhaps still inspired by the positive vibes of the new year, the idea suddenly came: a social media post on an ELT writers & editors' group. It must have been pretty persuasive, as a few editors (including Lottie Galpin) very kindly volunteered to share the workload among themselves for this good cause, despite their busy schedule.
Needless to say, the author was over the moon with such an overwhelming response and delighted to have the help and support of kind and professional editors.
About the Book
Fast-forward to July 2021, 120 Must-have Verbs for IELTS Task 2 has finally been published, and it is a true labour of love. For the topic, the author was inspired by his own students, who often struggled with formal vocabulary specific for Academic Writing. At B1-B2 level, learners often reach a language learning plateau, when they don't progress as much and as quickly as at lower levels. This can occur for a number of reasons, but it's also due to a natural learning slowdown. The aim of this book is to help test takers get 'unstuck' and move beyond their intermediate level to achieve higher IELTS scores.
Prior to their test, most students attend IELTS preparation classes, where they are exposed to academic reading and writing, often for the first time. As well as lessons, learners rely on self-study to develop their academic and formal language skills, but the materials available are often limited. This book is a practical tool that can be used by teachers to supplement their lessons; but I feel it's best suited to students' independent learning.
The Review
As the name suggests, 120 Must-have Verbs for IELTS Task 2 covers 120 high-level verbs, split equally among 12 units. The book starts with an introduction, explaining about the IELTS Task 2, and describing who this book is for and how to use it. As a self-study resource, I find the addition of the task-specific band descriptors very useful.
The units are logically organised in a simple layout. In each unit, every verb covered is introduced by a definition and matched to a wide range of collocations, organised per word class - e.g. verb + noun; verb + adverb, but I wonder if the one or two sample sentences given are enough. Although there is no specific criteria for the groupings, the verbs chosen are relevant not only to the writing task, but also to the reading texts in the Academic IELTS exam. The verb presentation also includes relevant word formation (e.g. verb into noun; verb into adjective), which is a nice touch.
After the presentation of all the verbs, there's the practice section with five different exercises per unit: two on collocations, one substitution task, a gap-fill exercise and a final, less controlled activity, that engages the learner's critical thinking skills.
I like this a lot!
I wondered if, perhaps, the repetition of the exercise pattern might make the resource become tedious. On second thought, as this is a supplement - not a coursebook, the familiarity of structure and tasks might, in fact, benefit the learner, who can fully focus on completing the exercises, rather than on understanding how to carry them out.
Every two units, there's a review section with crosswords, matching exercises, and gap-fills within sample essays, to consolidate learning. There's also a dedicated page for essay writing practice!
Overall
In a nutshell, 120 Must-have Verbs for IELTS Task 2 is a versatile resource for teachers and students alike. Focusing on academic verbs, this is a practical, no-frills activity book designed to help learners develop and expand their vocabulary range, particularly useful for essay writing. With its linear layout and well-known task types, this book gives anyone who wants to enhance their vocabulary skills the opportunity to learn and practice advanced-level language.
About the Author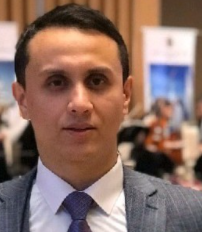 Javlon Yusupov has been teaching for seven years. With a Bachelor of English Philology and Language Teaching degree, he is a school teacher and teacher trainer in Uzbekistan.
To request your copy of the e-book, you can contact Javlon on LinkedIn, or you can drop him a line - javmyname11@gmail.com.